Bayt El Khebra for Tax Consultancy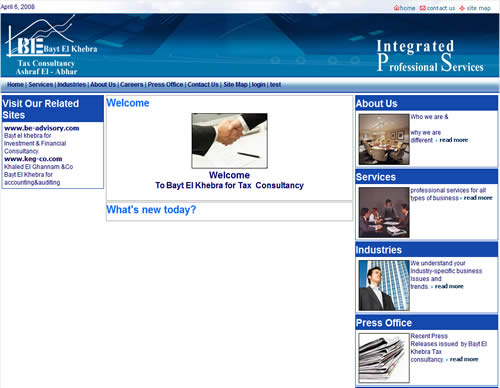 Bayt El Khebra has developed expertise in different industries. These industries reflect the diversification of Bayt El Khebra loyal client base. In addition to updating Bayt El Khebra clients with regular circulars and flash reports, the Industry Groups provide in-house consultation to colleague service teams. The Industry Groups include banking & financial institutions, manufacturing ,tourism and services fields. Under each industry, we render our services to various fields of activities.


Call us now +2 0111 8 666 444
www.egygo.net

+202 224 11 743
sales[At]egygo.net
10A Abdel Ghfar Nour st.
Helliopolis, Cairo, Egypt.
Copyrighted © 2004 to 2011 EgyGo.net All Rights Reserved, Site designed by EgyGo.net for Web Design in Egypt