Standard Banner Ad Size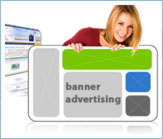 Banner ad design is an art unto itself.
Creating effective
banners ads
can be an ellusive task. Our banner ad designers have created a list of their favorite banner ad design tips, sharing what they have learned over the years.
Different areas of banner ad design are discussed such as creative concepts, design techniques, messaging, and technical issues.