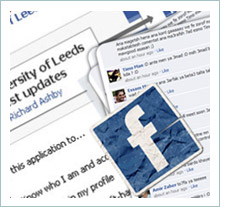 The Facebook Platform is no longer for young kids, college students, or young adults just keeping in touch with their best friends; it's turning into one of the most powerful platforms for business since Google launched AdWords in 2001. Facebook Pages are increasingly becoming a "second home page" for businesses online.
Where else in reality or on the Web can you find some of the most connected and social people on the planet all ready and willing to engage with you and your business?
Better still, where can you find an ad application that can not only target by keyword (like Google can do) but also target by age, sex, location, and personal attributes such as favourite types of music, movies, or food?
The Viral Effect: Take word Of mouth to a whole new level. Nothing attracts a crowd like a crowd Facebook is attracting quite a crowd.
Facebook Facts: Explosive Growth Facebook Inc., the most popular social-networking site, is updating the home page with new navigation features as it reaches 400 million users worldwide, double the number a year ago. Indicating Facebook's explosive growth is actually still accelerating.
• More than 400 million active facebook users about 3 million are from Egypt.
• 50% of active users log on to Facebook in any given day.
• More than 5 billion pieces of content shared each week.
• Average user has 130 friends on the site.
• Every month, more than 70% of Facebook users engage with Platform applications.
• More than 500,000 active applications currently on Facebook Platform.
• More than 250 applications have more than one million monthly active users.

11 facts of why you need a Facebook application ?
1. Branding – Facebook can be a great resource for generating brand awareness. Facebook is becoming popular amongst various age demographics and can be a create interception point for building your relationship with you consumers and prospects.
2. Customer Engagement – Using Facebook applications can be a great way for communicating promotions, contest and events. Again it is another interception point that can be leveraged to entice consumer engagement with your brand, your products or your service.
3. Drive Web Traffic – Facebook can act as a portal point for driving traffic to your site and other online properties.
4. Reputation Management – can be a useful tool for seeing what users are saying about you and your brand. In addition your Facebook profile can now be indexed in the search results and as a result can provide another favorable listing in the organic search results of the engines.
5. New Customer Acquisition – Facebook provides an opportunity to find consumers you may have not otherwise discovered.
6. Lead Generation – Similar to the previous point is that Facebook can act as another potential lead gen tool that can be used to qualify leads. Reviewing potential prospects' profiles may help you build a relationship with your prospects and aid in the lead generation qualifying process.
7. Client Retention – provides another potential interception point to build the relationship with your consumer.
8. Access to the social world and its inherent value – aka the cool factor. You never know who is using Facebook. Consider the following scenario: a potential prospect could be doing research on your brand or organization and may use Facebook to see if you have a presence there. Then they see that you have a Facebook profile and see a number of positive posts about your brand. This in turn can shape their sphere of influence and could end up being one of many deciding factors as to why the prospect selects you over another vendor. The perception that Facebook is "IN" and the fact that you are using Facebook could help influence their perception of your brand. Having said that, there are still may who are anti-Facebook so it could also affect the perception about your brand. The fact remains is that Facebook continues to gain popularity and it is not going away anytime soon.
9. The Viral Effect – Take word Of mouth to a whole new level. Nothing attracts a crowd like a crowd… Facebook is attracting quite a crowd.
10. Feedback Mechanism – Using Facebook and the various applications available can help you understand consumer behavior based on the sharing of content and commentary on the social networking site.
11. Build Business Use Cases – Facebook can provide you with an opportunity to build successful business cases as you target specific vertical markets with specific business objectives.
There have been other social networks and media sites that have had limited success in terms of promotion and creating brand awareness. With the amount of existing and new applications that are being created on Facebook, business owners have an opportunity to use Facebook to promote their brand even further. The above points illustrate that there is benefit for organizations who use Facebook. It may not be the tool or medium that many would first think of to promote their brand, but judging by the surging popularity, Facebook is not that bad of a place to create awareness of your brand.